Exclusive Solution Provider with its own shipping infrastructure
Overseas Logistics
Choosing a logistics system is an important part of your overseas business.
Optimized logistics increases your credibility
and leads to more sales.
Korea Center Fulfillment
An organic control tower that owns an infrastructure encompassing B2B and B2C,
which is a collection of Makeshop's technology and comprehensive know-how from Malltail.
01

Global Shipping

Simply send your product to Malltail,
and Malltail Logistics Center will handle the tasks for global shipping such as
product measurement, packaging and delivery, customs clearance, and CS related to shipping etc.

02

Local Direct Shipping

In this option, your product is stored in local warehouses
and delivered upon order receipt making quick delivery possible
and the overall logistics cost decrease.

03

Global Return

Providing a return service gives customers more confidence in purchas your products.
Reliability is the most important payment conversion factor in overseas business.
Major Logistics Base
Korea Center directly operates overseas logistics centers by establishing
local subsidiaries in the US, Europe and Asia,
and provides multi-country logistics services through contracts with various major global carriers.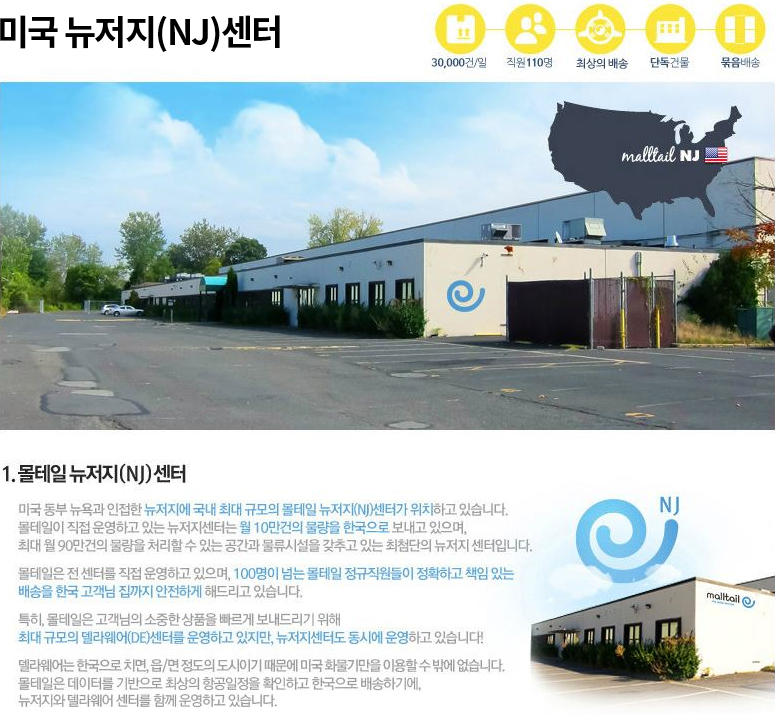 Malltail KR for global shipping from Korea
Maltail KR Bucheon Center is dedicated to global shipping from Korea.
Korea Center Fulfillment Service is conveniently available via Malltail KR.
Sign Up & Log In
to Malltail

Charge shipping fee and
deposits on Oh-Money

Send product and order forms
to Malltail KR

Deduction of Oh-Money after
packaging and measurement

Global Shipping
* Shipping information from MakeGlob online stores can be directly linked to Malltail.
We will respond as soon as possible to your questions
about the Malltail Seoul Center
070.5129.4735
Mon-Fri: AM 9:30 - PM 6:30 (Closed on Saturdays, Sundays and reserved holidays) Lunch Break: PM 12:30 - 1:30